CLARIAH-VL is proud to announce the release of DigHimapper, a platform to analyse historical maps via georeferencing and annotating. It involves the public in two important steps in the processing of historical maps into analysable sources of information to make it possible to visualise landscape evolutions and search maps for place names.
In the Georeferencing portal, historical maps are placed as closely as possible to their current state. This is done by looking for points that can be found on both a historical map and in the current landscape. By repositioning the maps, it becomes possible to compare them directly with the present, as well as with other historical maps, thus visualising landscape evolutions.
In the Annotation portal, place names (toponyms) on historical maps are converted into text that can be read by computers. Combined with the repositioning of the map itself, these toponyms are given a place in space. Since toponyms often contain a wealth of information about past landscapes, this provides an indispensable resource for studying landscape evolution.
The collection
Central to a first phase of the development of this platform are the magnificent maps of the Arenberg family, which can be found in the General State Archives. The Arenberg family had possessions all over Europe, but mainly in the Low Countries. The collection has now been scanned at high quality and totals some 4,000 maps, ranging from parcel maps of villages to world maps.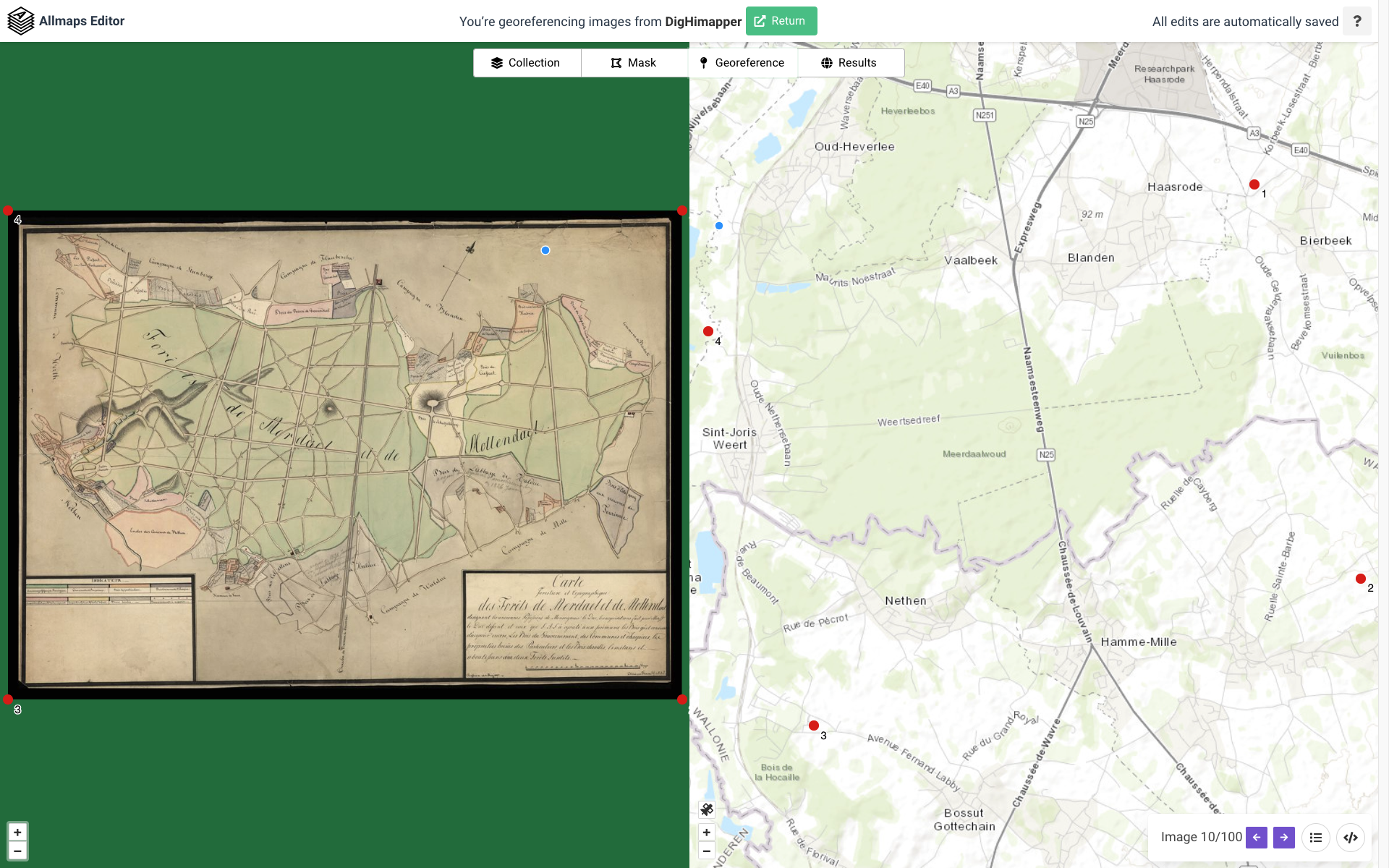 Contribute as a volunteer yourself!
Refine existing georeferences or get to work on toponyms. The results will be used for scientific research on past landscapes, making digital historical maps better available and as a test case to expand the platform with more functions and a multitude of historical maps. Go to the DigHimapper website and you can get started right away!
Contact: dighimaps@uantwerpen.be
DigHimapper is a collaboration between the University of Antwerp, the State Archives of Belgium, Webmapper and Bert Spaan. The project is funded by the Special Research Fund of the University of Antwerp and CLARIAH-VL. The original historical maps were transferred by the Arenberg Foundation to the State Archives of Belgium, which was responsible for scanning them. DigHimapper is also part of the FED-tWIN DigHimaps, a project collaboration between the University of Antwerp and the State Archives of Belgium, funded by BELSPO.
---